They're two of the most powerful smartphones you can buy, with some of the latest in smartphone technology and high price tags to boot. I'm talking about the Galaxy S23 Ultra and iPhone 14 Pro and Pro Max, two phones competing for the crown of the most complete flagship smartphone experience.
The S23 Ultra has a long list of tricks up its sleeve, with a massive 200-megapixel camera strapped to the back, 100x Space Zoom, an S Pen and a huge battery. Meanwhile, the iPhone 14 Pro offers a gorgeous screen, the fastest processor in any smartphone and top-notch video quality.
The question is: Which one of these $1,000-plus kings should you buy? Let's break it down.
| | | |
| --- | --- | --- |
| Display | 6.8-inch Dynamic AMOLED 2X Quad HD display at 120Hz | 6.1-inch (Pro) or 6.7-inch (Pro Max) Super Retina XDR display, 120Hz |
| Processor | Snapdragon 8 Gen 2 | Apple A16 Bionic |
| Storage | 256GB / 512GB / 1TB | 128GB / 256GB / 512GB / 1TB |
| Memory | 8GB / 12GB | 6GB |
| Rear cameras | 200-megapixel wide camera, 12-megapixel ultrawide camera, dual 10-megapixel telephoto cameras with 100X Space Zoom | 48-megapixel main camera, 12-megapixel ultrawide camera, 12-megapixel telephoto |
| Front camera | 12-megapixel | 12-megapixel |
| Colors | Phantom Black, Lavender, Cream and Green (everywhere); Lime, Sky Blue, Graphite and Red (Samsung exclusive) | Deep Purple, Gold, Silver, Space Black |
| Size and weight | 6.43 x 3.07 x 0.35 inches, 8.25 ounces | 5.81 x 2.81 x 0.31 inches, 7.27 ounces (Pro); 6.33 x 3.05 x 0.31 inches, 8.47 ounces (Pro Max) |
| Price | From $1,200 | From $999 |
Putting aside all of the features of each phone, one of the very first things you need to consider is the sheer size of the Galaxy S23 Ultra. It's huge. It's by far one of the biggest phones I've ever used, and its boxy sides and corners don't help.
The iPhone 14 Pro Max, in comparison, is also very big. It's quite unwieldy for anyone with smaller-than-average hands, and it's pretty heavy (even heavier than the S23 Ultra at 8.46 ounces versus 8.25 grams).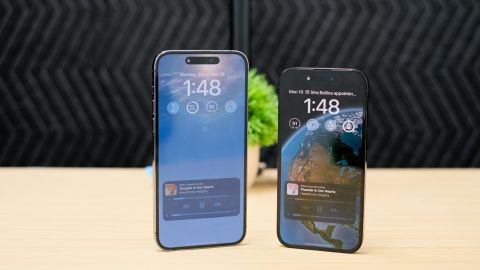 But here's the thing about the iPhone 14 Pro: It comes in a smaller size. You can get the 6.1-inch model if you'd like and save your hand from becoming sore or uncomfortable after using it. Plus, you get all the same features as the Pro Max model — the cameras, processing power and overall design are all identical. You'll have to live with shorter battery life, but for a phone that doesn't feel like a brick, I imagine there are quite a few people who would be just fine with that.
The S23 Ultra is available in only one size: huge. You have to be willing to put up with its massive footprint to enjoy all its bells and whistles.
TL;DR: The Galaxy S23 Ultra is huge, and if you're not cool with that, you're out of luck. The iPhone 14 Pro, meanwhile, gives you the choice of a huge phone or a small phone, which is helpful for those who like something more compact.
The iPhone 14 Pro has one of the best displays you'll find on any smartphone, hands down. Apple's Super Retina XDR screens offer some of the best color accuracy, contrast and clarity on the entire market. It's smooth, thanks to the 120Hz refresh rate; it makes everything from movies to ebooks look awesome; and it's the brightest smartphone screen you can get at up to 2,000 nits in direct sunlight.
All that being said, I actually think the Galaxy S23 Ultra edges it out from an enjoyment perspective. The Ultra can't get quite as bright as the iPhone, peaking at 1,750 nits, and its vibrant colors skew the accuracy of what you're looking at. But side by side, the S23 Ultra looks better.
I think a big part of that is Samsung's excellent Dynamic AMOLED 2X panel, which offers some of the very best contrasts and black levels you'll find on a phone. Every detail is pin sharp on this display, and its sharper 3088 x 1440 resolution helps things look clearer than they do on the 2796 x 1290 14 Pro Max or 2556 x 1179 14 Pro.
Plus, it's massive. At 6.8 inches, it's larger than both the 6.1-inch and 6.7-inch 14 Pro devices. And at the end of the day, who doesn't like a big, bright and colorful AMOLED display to watch movies and scroll Instagram on?
TL;DR: While the iPhone 14 Pro has a spectacular display, the S23 Ultra feels a lot more fun to use, thanks to its vibrant colors and sheer magnitude.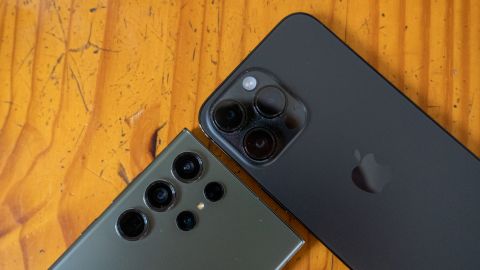 The Galaxy S23 Ultra has one of the best camera systems I've ever used. It's led by Samsung's new 200-megapixel main sensor, which is an upgrade over the 108-megapixel camera on the S22 Ultra. The sensor uses pixel binning to artificially form fewer megapixels that are much larger in size — outputting 12-megapixel images by default — with far more light and detail than a traditional camera. The result is a sensor that simply can't take a bad picture, whether it's during the day or in pitch-black scenarios in the evening.
There's also a 12-megapixel ultrawide camera that's very good during the day and night, a 10-megapixel 3x telephoto camera for improved portrait photography and a 10-megapixel periscope lens that enables Samsung's signature 100x Space Zoom feature. This means you can zoom all the way to 100x on your subject, letting you take those sweet pictures of the moon Samsung is always advertising.
Apple's camera system on the iPhone 14 Pro takes a big leap forward from a resolution perspective with its new 48-megapixel main lens, replacing the 12-megapixel camera from the 13 Pro. It's by no means as sharp as Samsung's 200-megapixel camera, but it certainly gets the job done. In fact, I've found those two cameras to be interchangeable in everyday shooting. Photo quality from both is solid in well-lit environments as well as at night.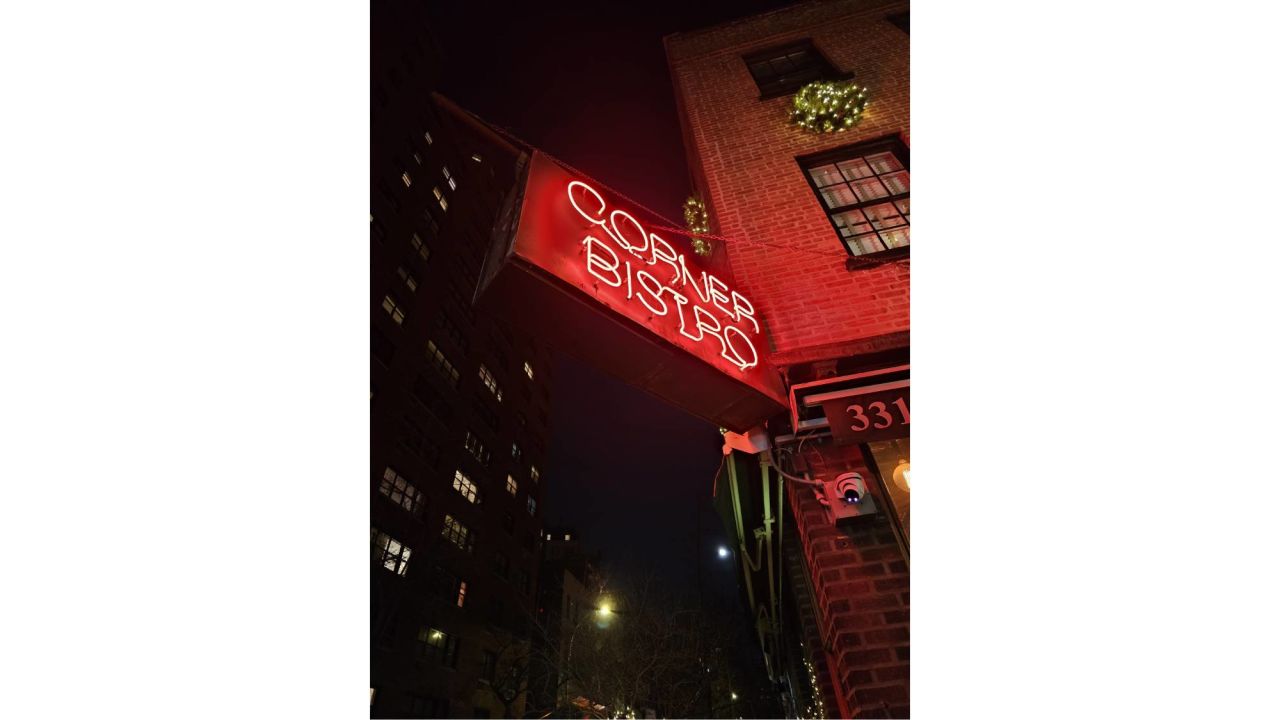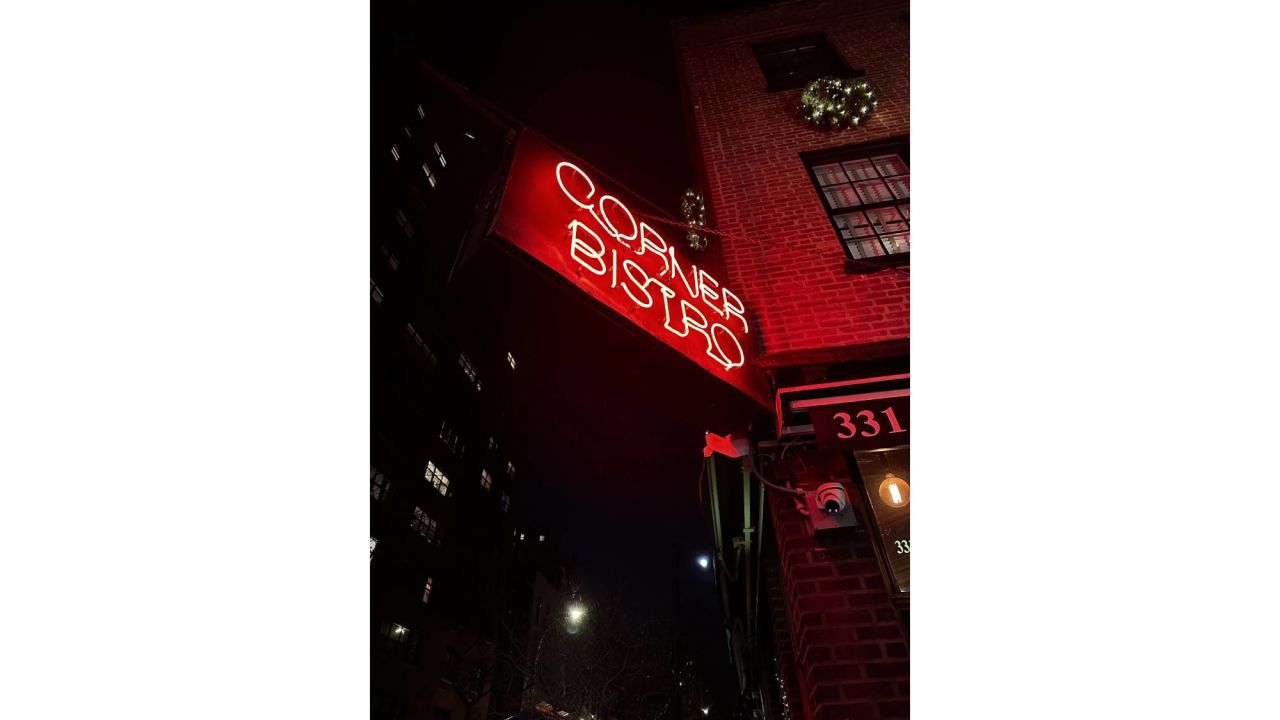 Samsung Galaxy S23 Ultra vs. iPhone 14 Pro: Which phone is better for you?
It's in the versatility department that Apple's camera system falls apart. The 12-megapixel telephoto lens on the 14 Pro only offers 3x optical zoom, giving you a max zoom level of 15x. Compared to the S23 Ultra, that's pretty abysmal. What's more, there's no professional shooting mode on the iPhone, despite the "Pro" moniker at the tail end of its name (though you can at least take photos in RAW format if you'd like to professionally edit them after). The S23 Ultra, meanwhile, lets you dial in the exact settings you want before hitting the shutter button, thanks to its Expert RAW app.
I've also found Samsung's ultrawide and telephoto cameras take more pleasing photos than the iPhone's lens equivalents. Something about their clarity and sharpness looks better balanced to my eye. That also goes for selfies — I've never really been a fan of Apple's selfie cameras due to their inability to capture that much light, and the 14 Pro's 12-megapixel shooter is no different. Samsung's 12-megapixel selfie camera is a lot better, with excellent exposure and handling of highlights.
If the iPhone edges the S23 Ultra out in any camera department, it's video quality. The 4K samples I've captured with the 14 Pro are smoother, better rendered and generally better balanced than the ones I've captured on Samsung's phone. Granted, the S23 Ultra comes very close to matching Apple's video quality, but it still can't quite deal with oversharpening on certain subjects like plants and structures with intricate detail. And sure, you can shoot 8K video on it whereas you can't with the iPhone, but it's not very useful since finding an 8K screen to play it on is extremely difficult.
TL;DR: If you want the best camera system for photography, go with the Galaxy S23 Ultra. If you take a lot of videos and value that over still images, the iPhone 14 Pro is the phone to get.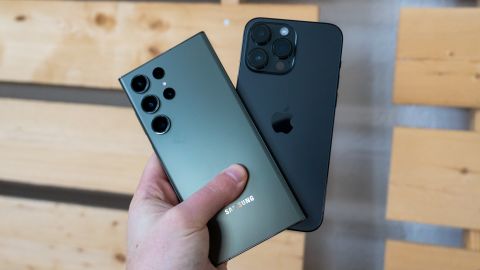 Apple's iPhone 14 Pro is powered by the A16 Bionic processor, which continues to lead the industry as the fastest mobile processor you can get in a phone. Second to that is the Snapdragon 8 Gen 2 from Qualcomm, which can be found in the Galaxy S23 Ultra.
Benchmarks suggest the 14 Pro is a lot faster than the S23 Ultra, but having used both phones, I can report that their performance differences are almost indistinguishable. Apps fly without a stutter, multitasking is a breeze, gaming is excellent and it's almost impossible to slow either of them down. The S23 Ultra has a lot more RAM than the iPhone does at 12GB versus 6GB, but that doesn't stop the 14 Pro from continuing to outperform its spec sheet, all thanks to that monster of a processor inside.
At the end of the day, though, both of these phones are blazing fast. Samsung has done an excellent job at optimizing its One UI software to be more responsive and fluid than ever before, while iOS on Apple's device remains as smooth as ever.
Both phones are also incredibly efficient, but the S23 Ultra takes the crown when it comes to battery life. The phone ships with a 5,000mAh battery, a much bigger cell than the 4,323mAh battery in the iPhone 14 Pro Max and far larger than the 3,200mAh cell in the standard 14 Pro.
On a full charge, the S23 Ultra can easily last two days and then some. Heavier users might be able to drain it in a day, but you really have to work at it. Meanwhile, the 14 Pro Max drops down to about 40% at the end of a 16-hour day. The regular 14 Pro is even worse than that, so if battery life is a concern, the S23 Ultra is the phone to get. It also comes with faster 45W charging and reverse wireless charging, while the iPhone 14 Pro is limited to 27W and no reverse wireless charging.
TL;DR: While performance between the Galaxy S23 Ultra and iPhone 14 Pro is basically the same, battery life is a lot better on Samsung's device.
It's still iOS versus Android, but you get a great experience either way

Picking the Galaxy S23 Ultra or iPhone 14 Pro will probably come down to whether you want Android or iOS on your smartphone, but I will say that both software experiences are terrific.
Samsung's One UI 5.1 — based on Android 13 — offers tons of customization options, multitasking tools like split-screen and floating windows, and a simplistic interface that's fast and fluid. It's also guaranteed to get four major Android version upgrades and five years' worth of security patches, which is important for the long run.
Meanwhile, Apple's iPhone 14 Pro ships with iOS 16, which offers new customization tools for the lock screen, new Focus settings, updates to the Messages app and more. You also get the Dynamic Island, which gives you quick access to apps running in the background, as well as Live Activities to track things concurrently happening.
For the record, I don't think the Dynamic Island is a reason to get the iPhone 14 Pro over any smartphone, let alone the S23 Ultra. It's a handy feature, sure, but it's by no means a must-have.
As far as updates are concerned, Apple never publicly confirms how many updates a specific iPhone will receive. Given the company's history, however, it's safe to assume you have at least five good years of software updates in the pipeline.
TL;DR: At the end of the day, you might pick the iPhone or Galaxy strictly because it runs iOS or Android. At least you'll get a great software experience either way.
You can draw and write on the Galaxy S23 Ultra, where you simply can't on an iPhone

The Galaxy S23 Ultra includes an S Pen, which gives you the best writing and drawing experience you can get on a smartphone. It's responsive, it comes with a ton of neat tools and features to play with and it's perfect for everything from sketching to signing documents on the go.
If you want to do any of that on your iPhone 14 Pro, you're out of luck. Besides those cheap rubber styluses that work like your fingertip, the iPhone doesn't support any type of stylus input. We're still waiting for Apple to add Apple Pencil support to the device one day, but that hasn't come yet.
TL;DR: If you want the ability to sketch or sign documents on the go, get the S23 Ultra.
Both phones have stereo speakers, but I prefer the ones on Apple's iPhone 14 Pro. They have a much fuller soundstage and deeper bass, whereas Samsung's Galaxy S23 Ultra is a bit hollow and not as rich. Don't get me wrong, they still sound good, just not as good as the iPhone.
I've played a lot of music on both devices, from hip-hop to classic jazz, as well as a handful of movie trailers and podcasts. I can confidently report that the 14 Pro is the best phone to play audible content on, while the S23 Ultra is a close second.
TL;DR: The iPhone 14 Pro is best for speaker quality, but the S23 Ultra isn't too far behind.
The iPhone 14 Pro famously switched to using eSIMs exclusively for cellular connectivity. If you're unfamiliar, eSIM is a new version of a traditional, physical SIM card that's entirely electronic. You can download them to your phone instead of having to pop a tray out to slot it in, you can move them between phones and … they're kind of a pain in the neck.
Take it from me, a person who switches his phone just about every week to test a new phone. In order to get my eSIM from my iPhone to another phone, I have to go through my carrier and ask them to transfer it by supplying all sorts of identifiers, codes and more. It's really annoying, so I envy the Galaxy S23 Ultra and its physical SIM card tray.
Physical SIMs can simply be ejected from one device and slotted into another, all without issue. This might prove to be useful to you if you need to send your phone in for repairs and want to move your number and service to a temporary device in the meantime. It's a lot easier to take the card yourself and slot it in the new one than going through carrier support to ask them if they'll move it for you.
The smartphone market isn't in a place where eSIMs are as easy to manage as physical SIMs. Someday we probably will be, but it'll be a while before that happens. So if you're one to appreciate having a physical SIM card, the S23 Ultra is the phone to get.
TL;DR: With Apple's exclusive use of eSIMs on the iPhone 14 series, the phone to get if you prefer having a physical SIM is the Galaxy S23 Ultra.
The Galaxy S23 Ultra is by and large the best premium smartphone you can currently buy, but the iPhone 14 Pro series gives it a run for its money. With either device, you get a great design, OLED screen, fantastic cameras, fast software and performance, and good battery life.
It comes down to what you value in a smartphone. If you're looking to take the best pictures possible and have the most tools at your disposal to do that, the S23 Ultra is the phone for you. The same goes for battery life and display quality — Samsung manages to defeat Apple in both of these areas, which makes the S23 Ultra quite an attractive package. Plus, you get an S Pen.
Of course, the iPhone 14 Pro has its own set of strengths. Its display gets brighter, video quality is better and it's available in more sizes than just humongous. That alone makes the iPhone pretty compelling since not everyone wants a huge phone.
All in all, these are both terrific smartphones, and their $1,000-plus price points are easy to justify when you consider what you get in exchange. Personally, I think the Galaxy S23 Ultra is a more complete package, thanks to those camera and battery life strengths, but the iPhone 14 Pro is a killer handset as well. And it may ultimately come down to which operating system you prefer: iOS or Android.